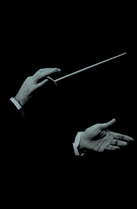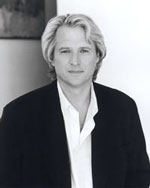 For award-winning composer and multi-instrumentalist Danny Pelfrey, music has been an inspiring journey leading from his roots in West Virginia to the magnetic world of film and television.
In the region where Danny grew up, dulcimer, mandolin, dobro and other stringed instruments were common. "To this day my parents still bring me instruments they've purchased from local craftsmen," Danny says. "My parents were very supportive of my efforts. My mother even saved Green Stamps to buy me a metronome. Later they both encouraged me to go to music school."
Though ultimately drawn in more formal directions, Danny has maintained a continuing affinity for unique musical traditions; folk choirs, tribal drums, chants and other cultural forms which are often utilized in Danny's compositions for film and television. "I love the process of wedding music with dynamic imagery," Danny says. "The more intense the image, the more challenging for the composer to find the right musical expression."
Learning to read musical notation at nine years old, Danny's first instrument was the guitar. "I knew I wanted to be a musician then," Danny remembers. "I was completely absorbed by music. I'd spend hours and hours by myself practicing." By the time Danny was twelve, he was ready to work with other musicians. "I wanted to participate, to experience the flow that occurs in a group situation," he explains. In order to join the school band, Danny took up the trumpet on which he excelled. To challenge him, his teachers encouraged him to play with the big bands and jazz groups at the local college. "I wrote my first arrangement at thirteen and conducted when my teachers needed someone to stand in for them. I enjoyed conducting and composition-- the way music was put together always fascinated me."
Graduating from high school early, Danny studied music at Marshall University and later left home to attend the Berklee School of Music. "Boston was very exciting, the cosmopolitan atmosphere just enthralled me. It was this incredible, creative universe," Danny remembers. "The Boston Symphony Orchestra was just down the street. There were chamber groups and jazz clubs, everything you could imagine. I couldn't believe what I was hearing, that people could play so well."
Legends rolled through town; Donald Byrd, Sonny Rollins, Gil Evans, Ornette Coleman and Miles Davis, playing at local jazz clubs like Paul's Mall and The Jazz Workshop. Danny began to study arranging and composition formally. "I started to understand composition as a whole, its evolution through history. I became aware of how formal musical structures were transformed by composers like Stockhausen, Messiaen, Penderecki and John Cage. Their work was charged with such incredible freedom, it was exhilarating to see how things developed through time and how culture affected artistic expression."
After being offered a job teaching brass in Winnipeg, Canada, Danny cut his teeth with local players. The atmosphere was bohemian. "There was a guy who lived at our house for a while who played sitar. He had a collection of Indian instruments. I got intrigued by the tabla ( a type of Indian percussion instrument). We ended up playing concerts together." Danny took up other instruments such as the flute and finally the alto saxophone. The saxophone was a revelation. "It was an incredibly flexible and personable instrument, it had the flexibility of the woodwinds and the power of the brass." Armed with the instrument that would define him as a player, Danny put together a simmering jazz quartet and a funk R&B band. He quickly became a popular soloist; sessions and radio work followed. These early experiences as a player shaped Danny's approach to composing, giving him an eclectic range and an extensive musical vocabulary.
Moving to Los Angeles, Danny did sessions with local musicians and composers. "L.A. was a whole new world," he recalls. "It was very fast paced, very professional, very media oriented." A fellow musician introduced Danny to Diana Ross and he embarked on an extensive tour. "We played the infamous Central Park concert. "The rain was torrential. Everyone was fleeing the concert and the band was left behind to find our own way back to the hotel, hauling our instruments on foot in the rain. I knew this was the beginning of the end of my touring days."
While performing with the Tracey Ullman Band, eminent composer and musician Carole King sat in and, after hearing Danny play, asked him to work with her; recordings, tours and television specials followed. Working with Carole King affected Danny profoundly. "It was an unforgettable experience. Carole's timeless melodies and lyrics will always live in my heart. I'm one of the lucky ones."
Danny became a presence in musician's circles while performing as a soloist on various television shows such as The Wonder Years, Roseanne, Ellen, Arsenio Hall, David Letterman and The Tonight Show. He recorded with many of the luminaries of our time; Aretha Franklin, Smokey Robinson, David Crosby, Graham Nash and Dave Stewart as well as Eric Clapton, Paul Simon and James Taylor. "I saw how things worked out here in L.A. and I liked it. The work was dynamic. Because of the nature of the media, things operated on so many levels. I knew I wanted to get involved in the whole process, I knew I wanted to compose."
Danny's first break was writing commercials for companies such as Nissan, Ford, Toyota and the California Lottery along with promos for Wheel of Fortune, Seinfeld, the ABC Fall Season Theme and similar projects. Danny also received Emmy nominations for his work in broadcast promotion music. Some of the stations playing Danny's broadcast music are WABC and affiliates, the Hearst Broadcasting Group, WPLG Miami, WXIA Atlanta, WBBM Chicago and many more in the United States.
Internationally, Danny's music can be heard on The Sky Channel from the UK, RTL Germany, Pro-TV in Romania and MBC, the Middle Eastern Broadcasting Company. In 1996, Danny received the Gold Promax Medallion Award for WPLG TV, "Keep It On Ten" Image Spot and also composed the music for the Hearst Broadcasting News Package which won Best In Show at NATPE.
An exciting development for Danny has been composing the music for CD ROM games. The unprecedented popularity of the new games and the development of high-speed technology on the Internet have opened up vast, new markets for music. "Composing music for interactive games has provided me with a whole new freedom of expression. No restrictions are placed on your imagination," Danny says. "I love this new universe. The opportunities are limitless and this is only the beginning."
He has written music for some of Stategic Simulations best-selling CD ROM games such as Pajama Sam, Imperialism, Star General, Steel Panthers I & II, Sword of Heroes, Pacific General, Fantasy General, Thunderscape, Entomorph, Great Naval Battle, Age of Rifles, Out of the Sun and Camp Make a Wacky. Danny has also written the music for Activision's Dark Reign and their award-winning Star Trek Series including, Elite Force, Elite Force II, Star Fleet Command III, Armada, Armada II, Away Team, Bridge Commander and Borg Assimilator.
Danny composed the score for Dangerzone, a Nu Image film starring Billy Zane and Robert Downey Jr., which premiered on HBO after a worldwide release. "The research required was formidable," Danny says. "The film takes place in Africa and we had to get the right mix of high orchestral drama, tribal choir and percussion. It was an adventure film so percussion was very important. We wanted authenticity so we brought in an African drummer and singer who were just terrific. It was a wonderful project for a composer."
Danny was the composer and song producer for the animated film Joseph: King of Dreams sequel to Dreamworks SKG's Academy-Award winning animated feature film, Prince of Egypt. After the films release, Joseph: King of Dreams won the Video Premiere Award for Best Video and was nominated for Best Score. Danny's arrangement of the song, "Better Than I" won for Best Song. "Joseph was a very powerful and emotional story, as well as being visually compelling. Since the film was designed as a companion piece to Prince of Egypt, I was fortunate to get input from Hans Zimmer. He helped me incorporate the sounds from Prince of Egypt as well as guided me in the song production. Of course, Joseph turned out to be very different than Prince of Egypt, very challenging and rewarding. Since I had never done a musical before, it was interesting to note the difference between producing these songs as opposed to doing a record. In a musical, the songs advance the story and I had to help that process, as well as make the songs belong to the fabric of the film and the palette of the score. Although this was animation, it certainly did not call for a cartoon approach, due to the depth of the story. The film needed more of a live-action treatment to the score. "Joseph: King of Dreams also allowed me to work with the best producers in the business and helped make this a very successful experience both personally and professionally."
Danny has also contributed compositions to popular feature films such as High Fidelity, Sinbad, The Big Kahuna, Stir of Echoes, Enemy of the State, The Kid, Get Carter, Mars Attacks, I'll be Home for Christmas, D3: The Mighty Ducks, and McHale's Navy.
Danny's television experience has been extensive. Danny's daytime television credits include the Emmy-winning dramas As The World Turns, Another World, Santa Barbara and Guiding Light. As a member of the music teams for these highly-rated daytime dramas, Danny was honored by receiving Emmy recognition as a contributing composer for Another World, Santa Barbara and Guiding Light. "It was great to be acknowledged," Danny said. "The work was exciting for me, and a real learning experience." In 2003, Danny co-created a new theme for Guiding Light, which debuted to critical acclaim and received Emmy nominations in 2003, 2004, and 2005 for Outstanding Music Direction and Composition for a Dramatic Series for Guiding Light. After several years of nominations Danny won the 2006-2007 Daytime Entertainment Emmy Awards Outstanding Achievement in Music Direction and Composition "Guiding Light" and the same Emmy Award again in 2007-2008 for "Guiding Light".
Danny worked on the dramatic scores for several mini-series including Judith Krantz's Secrets and Jacqueline Susann's Valley of the Dolls. He has also contributed music to a number of acclaimed television shows including: Six Feet Under, Chris Isaak Show, Judging Amy, Survivor, Boston Public, Jag, The Tick, Charmed, The Oblongs, Roswell, Witchblade, Players, Once and Again, The Fugitive, Beavis & Butthead, Drew Carey, Haven, Fantasy Island, To Have & To Hold, Friends, Norm, Providence, Melrose Place, Cybil, Thirty Something, Saturday Night Live and Fresh Prince of Bel Air.
Danny's television work eventually led to co-composing three television shows with W.G. Snuffy Walden, the Emmy-nominated drama Felicity, Maggie Winters and the DreamWorks sitcom It's Like You Know. "Throughout the years, I had worked with Snuffy Walden in bands and recording sessions. A project came up Snuffy felt we could work on together and I jumped at the chance. We did Maggie Winters and It's Like You Know, then he asked me to come on board with Felicity. I thought Felicity was a first class show with great writing, and the opportunity to compose great music." Danny's work on Felicity garnered him an Emmy Nomination for Outstanding Music Composition For A Series (Dramatic Underscore) for a special episode of Felicity entitled, "Help For The Lovelorn." In the second season, we did "Help For The Lovelorn," a special episode in black and white that was very suspenseful. I had the opportunity to work with a small orchestra and some of the greatest musicians in the world. The film and music worked perfectly together. I'm very proud of how the music has been recognized.
In 1999, Danny composed the theme and underscore for the NBC sitcom Battery Park. "The musical score of Battery Park consisted mainly of short cues. The style was edgy and New York. In this environment the musical point has to be made very quickly, usually in just a few notes. This is not as simple as it sounds. For instance, try writing a song with three notes or make your point with three words. It was a lot of fun and I really enjoyed the music I created for the show."
In 2000 and 2001, Danny was the weekly composer and wrote the theme for two network shows; Danny starring Daniel Stern and the Emmy-winning sitcom Spin City starring Heather Locklear and Charlie Sheen. Danny was also the weekly composer for the acclaimed drama That's Life, Executive produced by Anita Addison starring Paul Sorvino and Ellen Burstyn. In 2001, Danny was nominated for the Golden Reel Award for Best Sound in a Television Episodic Series (Composer) for an episode of That's Life entitled "Touched by a Biker."
In 2002, Danny became the composer for NBC's hit fall drama set in the '60s and '70s, American Dreams, winner of the 2002 Golden Reel Award for best sound editing. Executive produced by Dick Clark and Jonathan Prince, American Dreams featured vintage footage from the original American Bandstand as well as popular stars of today portraying past legends from the eras that transformed music and a nation. Danny also produced the songs performed by American Dreams musical guests including: Alicia Keys, Usher, Kelly Clarkson, Ashanti, John Legend, Third Eye Blind, Nick Lachey, Macy Gray, Jason Mraz, Duncan Sheik, B2K, Leann Rimes, Chris Isaak, India Arie, Wyclef Jean, Jennifer Love Hewitt, Kelly Roland, Vanessa Carlton, Fantasia, Ben Taylor, Fefe Dobson, Richie Sambora, Liz Phair and Tyra Banks, (The American Dreams CD was released on Hip-o Records). American Dreams was evocative, with brilliant writing and strong performances. It was an amazing experience to work with such a great team of filmmakers," Danny said
. As composer for Lifetime's original series, Strong Medicine, Danny won the BMI TV Music Award for 2003, 2004, 2005 and 2006. Executive-produced by Whoopi Goldberg and Tammy Ader, Strong Medicine took a new approach to the traditional medical drama by using a woman's perspective. "The show was topical and very brave, " Danny said. "The music demanded a lot of emotional resonance." Strong Medicine won a number of awards including the Red Cross Spirit Award for commitment to public education; Excellence in Media's Angel Award, honoring works of outstanding moral, ethical and social value; The UCLA Foundation for Cardiovascular and Transplant Research Heart of Gold Award, for compassion and commitment; and The National Council of Jewish Women's Hanna G. Solomon Award, honoring women who reflect commitment to social justice. The series was also nominated for Imagen, ALMA, and NAMIC (National Association of Minorities in Communications) Awards and has been lauded by such organizations as the National Coalition for Women with Heart Disease to the Rape and Incest National Network (RAINN.).
In 2006, Danny composed the pilot for the CBS comedy Courting Alex starring Jenna Elfman.
Danny continues to be inspired by the magical atmosphere of film and television. As technology expands our ability to translate creative visions to the screen, Danny thrives on the new challenges. "Film and television are my favorite mediums for composition. I love the way the marriage of film and music creates a whole greater than the parts alone. In a lot of pieces of music there's an implied theater. In fact, some of the greatest compositions have been written for ballet or the theater. When all the elements of film work together, it's a total experience. Film can make a point like nothing else can. There are so many different effects that can be created for film. Some movies are strange and open-ended where you have to supply your own interpretation, then there are the popular ones where it's all laid out for you."
"Film and Television are great mediums for a contemporary composer, a great place to participate. Without music, film can be flat-- it lays there. The process of composing for picture runs the gamut of human emotions; terrifying, satisfying, provocative or transcendent. In almost every project there are limitations set up, usually time limitations, where you have to challenge your imagination and stretch yourself as a composer. Occasionally, you might need to achieve a big sound on a limited budget and that stretches you. The research involved often takes you to new places. I've made great discoveries about life while composing; how to communicate the subtleties of the human experience. Composing music really is my great love."
In 2010, the concert work Joseph Symphonic Suite was premiered by the Knoxville Symphony under the direction of Lucas Richman.
The dream continues...
Representation:
Rich Jacobellis
First Artists Management
Phone: 818.377.7750
Fax: 818.377.7760